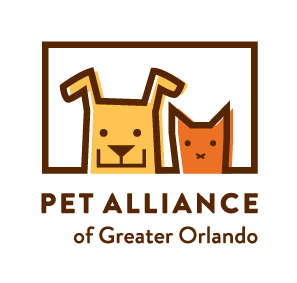 Event: Garfield's Halloween Virtual
We are excited that Pet Alliance of Greater Orlando is our local Florida charity for our Garfield's Halloween 4k.

Pet Alliance of Greater Orlando has been helping cats, dogs and the people who love them since 1937. This year, more than 7,000 animals will be surrendered to our shelters. Pet Alliance provides a safe and caring home for them while they wait for their new family. In addition to helping homeless pets, Pet Alliance also works to keep pets and people together so they don't have to come to the shelter in the first place. This is done through programs that provide free food and veterinary care to low-income senior citizens, assist people in finding pet-friendly housing options, offering affordable veterinary care and more. It is the support of caring people and businesses in our community that make this important work possible.

You are able to make an additional donation with your registration.
Email us if you would like to make a larger donations than what is listed. info@runwithcharacter.com


Learn more about the Pet Alliance
Garfield's Virtual Running Series Charity

Event: Garfield's Donut Run
A portion of the profits from each entry will go towards the Professor Garfield Foundation, continuing their efforts towards children's literacy and creative expression. The Professor Garfield Foundation is a not-for-profit 501 (c)(3) and a nationally recognized leader in teacher training and digital education.

What is Professor Garfield?
The Professor Garfield web site has been made possible through the collaborative efforts of many corporations, organizations, universities and educators who care about developing a creative and innovative learning portal for children, K-8. Materials included on the Professor Garfield site are developed and reviewed by educational experts who have the best interests of students and educators in mind.
Click to learn more about Professor Garfield